FAAZ Young Adult Board Member, Frank Smith, challenged Joe Jacober to "live foster care" through the FAAZ Day in the Life challenge. Joe's challenge was to be patted down for an entire week every time he entered his home. This challenge reflected one of Frank's own experiences while in foster care.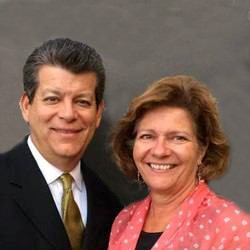 Frankly, it was humiliating.  Walking into my own house and being patted down seemed sad.  For what reason was I being patted down?  What are you looking for?  What do you think I am hiding?  Don't you trust me?  These were the thoughts going through my head each time I came home," Joe shared.
When asked how this challenge enhanced Joe's understanding of the experiences some youth in foster care could face, he responded, "Having been a foster parent for more than 15 years, I thought I had a grasp of the issues faced by youth in foster care, but this challenged surprised me.  It is amazing to think that any child or young person would have to experience something like this. If there is such a lack of trust between me (or the youth in foster care), how would we ever have a growing and nurturing relationship if every time you greeted me you were saying … " I don't trust you".  Not exactly a welcoming feeling."
The Day in the Life blog series, is an effort spearheaded by the FAAZ Young Adult Leadership Board, to raise community awareness of the need for normalcy within foster care, supported under the Federal Strengthening Families Act (SFA). Moreover, with SFA, foster families have the support and trust they need to create "normal" living environments and experiences for youth in their care. This helps develop open and compassionate relationships between caregivers and youth to create trusting and stable relationships.
"I am often approached with questions about being a foster parent, but rarely about what it is like to be in foster care.  I learned that I need to be much more open and mindful of the experiences youth in foster care, especially older youth, may be going through, if I truly expect to be a good advocate for them," Jacober.
A special thank you to Joe Jacober and Frank Smith for sharing their "Day in the Life" experiences!