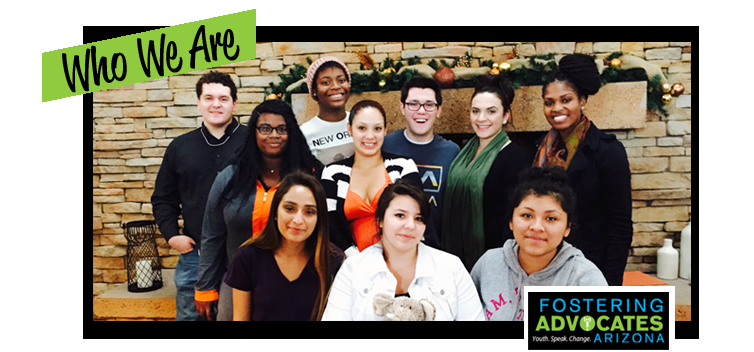 Sometimes it's called aging out of foster care. At Fostering Advocates Arizona, we call it transitioning out because we know that leaving foster care is not just shutting one door and opening another. There are lots of important steps in between.
We know that because Fostering Advocates Arizona is guided by young adults who have experienced foster care. Download our brochure and feel free to spread the word about our mission. It's our goal to make sure you – and all young adults – have the information, resources and support you need to transition to a new life. Fostering Advocates Arizona is for all foster care young adults who are:
Thinking about life after they leave foster care
Preparing to leave foster care
Exploring programs and services in order to reach goals
Re-grouping after exiting foster care
If you're here, you've got questions. If you don't find answers, contact us. We're here to help!
Children's Action Alliance (CAA) supports the work of Fostering Advocates Arizona. In addition to young adults who've experienced foster care, we partner with like-minded organizations and funders in order to support youth transitioning from foster care.
Thanks to these generous organizations for the funding that started Fostering Advocates Arizona:
Meet the people who work together to guide Fostering Advocates Arizona:
Many Arizona organizations and individuals – advocates, educators, colleges and universities, community service organizations, foster care alum, state courts and more – support the goals of Fostering Advocates Arizona. Our planners and advisors:
Sponsor focus groups (Basically, we listen to and learn from the thoughts and opinions of groups of foster care young adults)
Research helpful, important services
Look for ways to improve the transition process for young adults
Implement plans to reach goals set by Fostering Advocates Arizona
Download our work documents below: