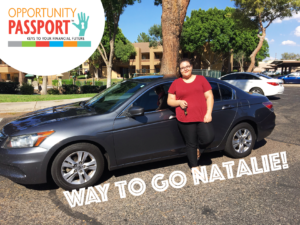 Opportunities come and go, but for Natalie Murillo, her recent opportunity has been taking her places. Natalie purchased a 2012 Honda Accord with the support of the Opportunity Passport™ program. Natalie says she is thankful for the help she got because it would have taken her two to three times longer to save the money she needed to buy her car.
Not only did Natalie save money, she now saves time. "Growing up in the system, you are always on someone else's time; going to work and appointments." She shared freedom is a luxury that comes with owning a car. "Now, I am able to choose when and where I want to go," said Natalie.
With her own savings in hand, Natalie was able to double her money through the program's match savings funds. Ready to make her purchase, she met with Opportunity Passport Coordinator, Gerardo Novoa. She says Gerardo stayed with her through the entire process, from keeping in touch online until she drove off the dealership car lot. She is very thankful for the funds and support she received through the program and recommends anyone looking to purchase a car using Opportunity Passport stay connected to the staff.
"Keep in touch, one simple email," she said. Although moving around from time to time can be part of life, Natalie highlighted, the support team from the Opportunity Passport™ program is there for you, not matter what the circumstance.